The 9 Best Raincoats For Dogs
Some dogs are water babies who enjoy drinking, swimming, and playing in the rain. Others will not go outside if there is a cloud in the sky.
Whatever breed of dog you have, there is one thing that every dog owner despises: taking your dog for a walk and then having them shake the water all over your poor house.
Whether you have a water child or a hydrophobe, you'll probably want to get a raincoat for your dog so that they don't spoil all your hard work by shaking the water from their coat all over it.
Here are the best raincoats for dogs that BestForPets (bestforpets.org) think you should buy.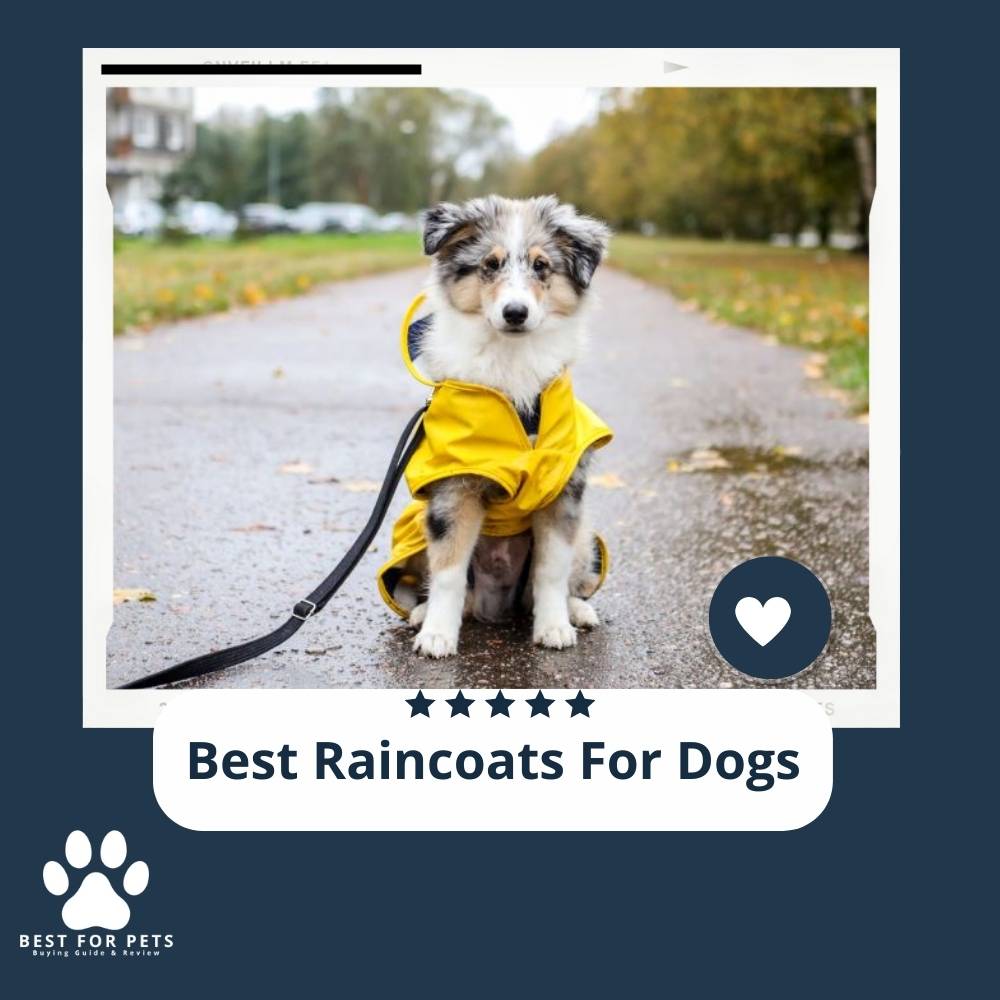 Reviews
Sizes available are 8, 10, 12, 14, 16, 18, 20, 22, 24, 26, and 28.
Pet owners willing to spend a little more for the best of the best will appreciate Canada Pooch's Slush Dog Suit, our pick for the best premium dog raincoat. This fashionable wetsuit shields the back and all four limbs from the elements. It has an open crotch and back so your dog may relieve themselves without getting wet. It also comes in 11 different sizes to fit any dog!
It comes in two hues, so pet parents looking for a more feminine look can get the pink jacket. It's also worth noting that dog owners who don't like their dogs to wear clothes will most likely have problems getting their canines into this wet suit. If your dog is inclined to fight you when you try to put on their raincoat, you should probably skip this one.
Pros
It shields the entire body from rain.
There are eleven sizes available, including ones for big dogs.
Cons
If your dog is stubborn, it may be difficult to get on.
Sizes: X-Small, Small, Medium
Because it is affordable and secures around the torso with snaps rather than a strap, Pet Life's Two-Tone PVC Waterproof Jacket is a good choice for puppies. Your puppy won't be able to chew or worm out of the straps on other coats since the jacket protects the front legs and snaps closed at the neck.
While this jacket will not grow with your puppy, it will help them become accustomed to wearing clothes because they will not be able to get out of it soon. The sooner you begin to get them used to wearing clothes, the easier it will be to put on protective clothing when necessary!
Pros
The PVC outer shell is extremely water-resistant.
For your dog's comfort, the fleece lining is soft and toasty.
Cons
Adjustability is limited.
Sizes available: XS, S, M, L, XL
The Torrential Shield from Dog Helios is a wonderful choice for pet parents who want their dogs' front limbs to be protected as they walk beside them. This jacket provides superb front limb protection while still being fashionable! It features a zipper closure, so small escape artists won't be able to get out quickly.
The Torrential Shield is composed of water-resistant nylon and will protect your dog from the elements, whatever they may be. It's a great choice for pet parents with small dogs who are more adept at escaping from their clothing.
Pros
The zipper closure is extremely secure.
Available in a variety of sizes.
Cons
Even the largest sizes may be insufficient for some dogs.
Sizes available: 3XS, 2XS, XS, S, M, L, XL, XXL, 3XL, and 4XL.
This reversible jacket is ideal for pet parents who require a close fit. The size range on this garment is enormous, covering all dogs from giant to tiny. It is made of polyeutherane-treated polyester, which will keep your dog dry even in the hardest rainstorms. It has adjustable tie closures that let it to accommodate a wide variety of pets, making it a perfect choice for pet parents with large dogs.
This jacket also has reflective fabric to keep your pet visible in low-light settings, making it ideal for walks in the rain or fog. This jacket also has a reversible print, allowing your dog to blend in with any environment in style!
Pros
Reflective tape is ideal for walking in low-light conditions.
For elegant versatility, it has a solid and patterned side.
Cons
Choosing the Best Dog Raincoat: A Buyer's Guide
When purchasing a raincoat, the most crucial consideration is size. When shopping for a dog coat, keep three parameters in mind: neck diameter, chest circumference, and body length. This manner, you can ensure that the coat you purchase for your dog fits properly and covers the majority of their body.
Wrap a tape measure around the broadest region of your dog's neck and chest to determine the circumference. This ensures that your dog can't get the raincoat off without your assistance, saving you from the aggravation of your dog escaping from their jacket in the middle of a torrential rainfall and carrying the deluge home with them.
Here are some other aspects to consider when purchasing a raincoat for your dog.
Stage of Life
When choosing any wearable equipment, keep your dog's life stage in mind. If your dog is likely to double or triple its current size, pet parents on a tighter budget may want to put off purchasing a piece of equipment they'll be able to use for a longer period of time.
Puppies grow quickly, so when you choose a coat, consider whether it has long-term potential for your dog.
Raincoat Design
You should also evaluate the raincoat's style before purchasing it. Many dog raincoats tie across the chest with a simple strap, but limb coverings are available if you want greater protection for your dog's limbs.
It will be more difficult to get your dog into a coat with limb coverings than it will be to get them into a coat with only a chest or neck strap, but more of your dog will keep dry if you can get them into a coat with limbs.
It's also worth noting that if your dog has limbs, taking him out of the raincoat will be more difficult. Dogs who don't like rain may want to go right back inside and get as far away from the door as they can as soon as they come inside.
Determine what type of raincoat will best suit your dog's needs using your best judgment.
Material
Finally, think about the materials used to make your new raincoat. The majority of dog coats on the market are composed of treated polyester that is water-resistant. However, certain coats on the market are constructed of more resistant materials, such as PVC, and give better weather protection.
Conclusion
Whatever breed of dog you have, there is a raincoat for them. Frisco's Rubber Ducky Raincoat is our pick for the best raincoat for dogs.
Frisco's Vinyl Raincoat, our pick for the finest raincoat for dogs for the money, will appeal to frugal pet parents.
Pet owners looking for a luxury solution can rely on Canada Pooch's Slush Dog Suit, our pick for the finest premium raincoat for dogs!
BestForPets (bestforpets.org) hopes our in-depth best raincoats for dogs review has helped you narrow down your selections and locate the ideal raincoat for you and your dog!
0 out of 5 stars (based on 0 reviews)
There are no reviews yet. Be the first one to write one.