The 9 Best Goldfish Tanks Have you been looking for a new home for your goldfish but are exhausted and overwhelmed by the numerous options available?
There are many types of tanks, sizes, and construction materials available. The aquarium devices that come with some models may be more comprehensive than others.
If you have a great design for your home that your goldfish will call "home", or you are just curious about the options, we are here to help!
BestForPets (bestforpets.org) has compiled reviews of the best goldfish tanks available, ranking them from best overall to best value to most premium.
These reviews will help you choose the best goldfish tank for your needs, space, and personal tastes.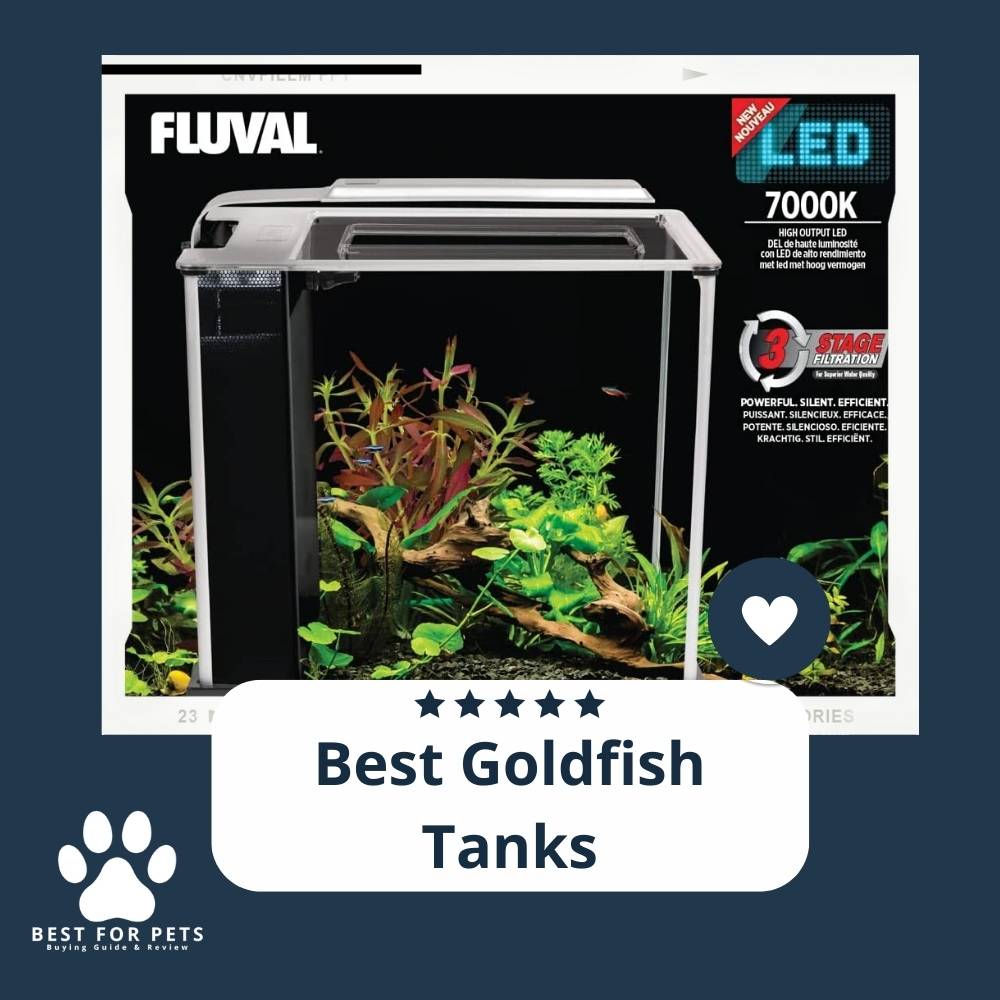 Instruction Manual
When picking up a tank for your goldfish, keep these things in mind:
The number of goldfish you currently have or want to purchase.
Due to the high bioload introduced by goldfish, it is not recommended to stock a small tank with a large number of goldfish unless frequent water changes are performed.
Which type of tank is most suited to your way of living?
What sort of tank you get for your goldfish depends on how much time you can devote to its upkeep. A smaller tank or one with inadequate filtration might be sufficient if you have the time to replace the water every day.
A bigger tank is preferable if you can only perform water changes and maintenance once a week or less often.
Where would you put a tank, if at all?
The last thing you want to do is spend money on a 10-gallon aquarium only to have to return it because you only have room for a desktop aquarium. Pick an aquarium that complements your decor and the amount of room you have.
Which size tank is best for your family?
This is crucial while deciding on a tank, as certain homes won't be able to accommodate the dimensions of particular tanks.
Acrylic and plastic tanks are not recommended if you have dogs or youngsters who are likely to scrape at the tank's surface. Because of the potential for injury, open-top tanks are not recommended for households with young children or cats.
Tips on What to Look For:
Lights and filters on cheaper tanks may not be easily replaced if they burn out, but you won't be out a lot of money if you have to rebuild the entire system if that happens.
Spare components are an absolute necessity in a more expensive tank. Don't buy a $150 tank system if you have to buy a new one because something breaks after the warranty has expired.
The more you spend on your set-up, the better it should be in terms of quality. Avoid getting duped by flashy ads for goods that won't last and aren't good for your goldfish's health.
Although it may seem obvious, always select goods that will keep both you and your goldfish safe. It's best to keep your fish away from anything with a rough interior, and sharp corners should be avoided as well.
Make sure the items you buy are suitable for use in an aquarium. This is especially true with pre-owned tanks, since you have no idea what chemicals their previous owner may have put in there.
Conclusion
Because BestForPets (bestforpets.org) wants you to give your goldfish the best life possible, we realized it can be difficult to decide on a new aquarium, so we did the research and created it.
These reviews will help you make the best goldfish tanks possible. Both you and your fish will be happier if you take the time to find the ideal goldfish tank for your home.
Because of its high quality, affordable price, and the inclusion of vital equipment like filters and LEDs, Koller Products' 360 View Tropical Aquarium is our top pick for the best goldfish tank overall.
In our research, we found that the Aqua Culture 10-Gallon Aquatic Kit was the best value for money. It has all the essentials to set up a goldfish tank, and it is large enough to accommodate your goldfish's natural growth.
Take into account your number and size of fish, available space, and the opinions of other buyers when deciding which tank is ideal for you.
Reviews
The Koller Tropical 360 View aquarium is a great choice for housing one or two little goldfish, and it's available in two- and three- and six-gallon capacities.
This tank's name comes from the fact that it provides a panoramic view of the aquarium from any angle. The acrylic used to make the tank is both shatterproof and lighter and clearer than glass.
The first filter cartridge, as well as the cover, are included in this starter set. There are 7 selectable color LEDs in the lid. The Koller Products Tropical 360 View Aquarium has the highest overall value for goldfish in 2021 because to its inexpensive pricing and extensive set of included features.
Pros
In comparison to glass, acrylic is both more portable and more transparent.
Affordable pricing
Both a filter and a cartridge are included in this set.
Choice of 3 sizes
Full-circle perspective on your fish
LED lighting that can be changed to any color
Fish are protected from predators by the lid.
Cons
Scratches may be plainly seen on acrylic.
The goldfish in your aquarium could outgrow its size sooner rather than later.
We think the Aqua Culture 10 Gallon Aquarium kit is the most value-oriented option for goldfish keepers. A number of tiny goldfish may live comfortably, and larger ones can expand, because of the ample space.
The package is a steal, as it has a hood with LED light, filter, filter cartridge, and free samples of Tetra fish food and water conditioner.
The tank's supplied hood is sleek and compact, a major improvement over the traditional tank hoods of yesteryear. The tank's cover has a small opening in the center that facilitates feeding and water maintenance but might potentially be exploited by inquisitive wild animals.
The glass construction of this tank makes it susceptible to shattering, yet its weight prevents it from being accidentally pushed over. You can get a high-quality tank for your goldfish, with plenty of area for them to develop, for a very affordable price with this kit.
Pros
LED-lit hood with a low profile
There can be many goldfish in a 10-gallon aquarium.
This set comes with a filter and a filter cartridge.
Food and chemical samples are included in the kit.
Glass is durable and simple to maintain.
The feeding port is conveniently located in the hood.
Cons
Some other animals may be able to get inside via the hood's little cutout.
No resistance to breaking
However, the Marina LED Aquarium Kit is a bit costly, it is a high-quality starter kit. The price may be too much if you are a first-time fish keeper who is unsure about whether or not they will continue with the pastime.
There includes an aquarium care handbook and everything else you need to get started included in this package. You may get started with only a few goldfish, or move your medium-sized goldfish from a smaller tank into this 20-gallon glass aquarium.
In addition to a filter and filter pads, a mesh fish net, food, water conditioner, and beneficial bacteria, this set has everything you need to get your new aquarium up and running.
The tank's lid features LED illumination that simulates sunshine but does not change colors. Since it is made of glass, this tank is heavier than the first two and distorts the view at odd angles. If dropped, it will shatter, however cleaning and scratch resistance are no problem.
Pros
Incorporates a Fish Keeping Manual
A bigger size ensures that the fish will not outgrow it rapidly.
LED-lit cover
Components of a filter system, include filter pads
Food and chemicals to get a fresh tank going are provided.
Glass may be easily cleaned and does not scratch.
Cons
Unfortunately, glass is both heavy and easily broken.
Exorbitant cost
LED lighting is monochromatic.
The possibility exists that glass distorts vision at certain viewing angles.
To accommodate a larger size, additional room is required.
The blue LED light in the GloFish Aquarium Kit is designed to bring out the vivid colors of GloFish, but it may also produce an interesting effect when used with regular goldfish.
The smooth corners of this 3-gallon plastic tank provide for unobstructed viewing from all sides. The goldfish may overrun the tank rather fast because to its small size.
This set includes a filter, filter pads, and blue LED lights integrated into the hood. The covering may keep nosy cats out of the tank, however there is a little entrance at the front of the tank. The tank is made of tough plastic that would take a significant impact to break.
Though more costly than the first two tanks we looked at, GloFish's package includes a pump and lights at a price that's still manageable.
Pros
LED lighting creates a unique impression.
No sharp corners
You don't have to worry about plastic breaking.
Consists of filter, filter pads, and a hood
Cons
Some goldfish may outgrow it rapidly.
Tank cover with a little vent
Costs more than the first two tanks we looked at.
This tank from Fluval, the Spec III, is the epitome of style. Black or white metal bands the tank's bottom, and the selected hue is carried upwards in the form of decorative embellishments.
In order to promote plant development, this tank is equipped with a strong LED light. Light and tank framework are protected from cracking thanks to metal wrapping.
The 2.6-gallon capacity of this tank means that it can only house a single little goldfish. It's the ideal desktop tank due to its compact size and sleek design. Its height makes it suitable for housing a variety of tiny to medium sized plants.
A pump is included in the set's output, and it's designed to transport water from the storage tank via a three-stage filtering system. The tank and its filtration system occupy separate rooms.
To allow the overhanging LED light to shine through, the hood has a tiny cutout at its peak.
Pros
Stylish and cutting-edge in every way
Framing made of aluminum is not easily broken.
Plants benefit from strong LED lighting.
It has a three-stage filtration system.
Tank size is suitable for a desktop
There are two color schemes to choose from for the frames.
Cons
I think goldfish will outgrow it really fast.
There's only a crack the size of a dime in the tank cover.
Exorbitant cost
The biOrb Classic Aquarium has a futuristic design that seems straight out of space. Its spherical, sealed appearance makes it appear as though there is no opening for placing fish within.
This unit has a five-stage filtering process and the filter output is a tall pipe in the center of the tank. Sizes of 4, 8, and 16 gallons make this a versatile tank that can accommodate a wide range of goldfish populations and development stages. White, silver, and black can be chosen for either the base or the top.
The biOrb Classic is built from lightweight acrylic, making it more transparent than glass and less likely to break. A little LED light sits above the tank.
You have the option of using either standard white LEDs or more vibrant, multicolored bulbs. The lights may be turned on and off remotely or manually.
The extremely expensive price tag is the biOrb's major drawback. As the biOrb is a more compact and aesthetically pleasing option than a bigger tank, you have the option to make a more informed investment decision when deciding between the two.
Pros
That is one sweet layout
Features a comprehensive five-stage filtering system.
LED lights, either white or multicolored, controlled via remote
Clear acrylic that won't break easily
The fish can see in all directions at once.
Looks like one continuous tank.
Sizes and colors vary.
Cons
Exorbitantly costly
Even juvenile goldfish may quickly outgrow their tanks.
To dim a multicolored light source requires a remote control.
The 8-gallon tank included in the Hygger Horizon package is modern and stylish, with a curved front. The LED light fixture in this glass tank may be adjusted to accommodate any tank up to 19 inches in height.
There is a remote control for the LED light, and it may be used to select from a wide range of different colors.
There is a filter in this set, but you can't see it since it's stored in an unseen chamber. This tank's design is complemented by the gorgeous cascading effect created by the filter's outflow.
Built into the rear wall of the tank are artificial rocks. The waterfall effect of the filter output, along with the artificial rocks, will give your goldfish the impression that they are in a real rock pool.
Only healthy fish over 2 inches in length should be maintained in this tank, since the manufacturer of this kit warns that smaller or weaker fish may get drawn into the powerful flow of the filter.
Pros
Clean, rounded front profile
Glass may be easily wiped out after use.
Light fixture with adjustable, multicolored LEDs is provided.
Permanent ornamentation
Exuding a Purely Natural Appearance
The fish in this 8-gallon tank will have plenty of area to swim and thrive.
Filter and filter media are included in this set.
Cons
Fish are susceptible to other pets because to the open top design.
Exorbitant cost
An inability to unhook the light's remote
Fish that are weak or tiny might be damaged by the filter's intensity.
0 out of 5 stars (based on 0 reviews)
There are no reviews yet. Be the first one to write one.