14 Best Flea Treatments For Kittens
Bringing your fluffy and gorgeous new cat home is a thrilling experience. However, you must ensure that the kitten does not bring any unwelcome visitors, such as fleas!
Choosing a flea treatment that is both effective and fast acting is an important component of caring for your new kitten.
If you already know how much they weigh, you can choose from the flea remedies on this list of the best flea treatments for kittens.
BestForPets' (bestforpets.org) reviews are intended to assist you in determining which flea treatment is best for your kitten.
So, whether you want a spot-on treatment to use as soon as you bring your kitten home at around 12 weeks or a long-lasting remedy for older cats, we have you covered.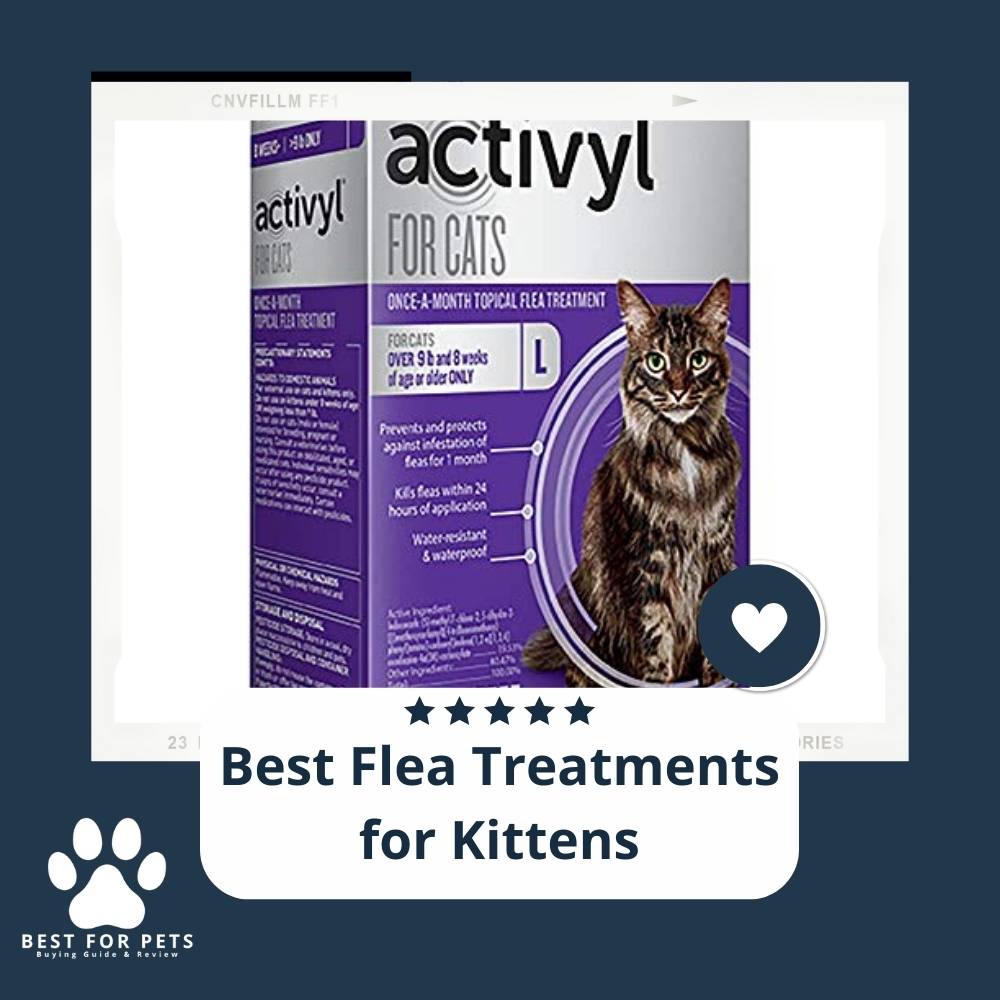 Reviews
If you're seeking for the best flea treatment for kittens on the market today, Frontline Plus Cat & Kitten Flea and Tick Treatment is unbeatable.
This long-lasting treatment kills fleas and their eggs and larvae immediately after application and remains active for 30 days. It's also waterproof, so if your cat needs a bath, you won't have to worry about it losing its effectiveness.
It is appropriate for cats and kittens above the age of 8 weeks and weighing more than 1.5 pounds. This therapy not only eliminates fleas but also lice and ticks, which can be Lyme disease vectors.
Pros
30 day duration
Waterproof
Fleas, lice, and ticks are all killed by this product.
Treatments for six months
Cons
The PetArmor Flea & Tick Squeeze-On Treatment is our pick for the finest flea treatment for kittens for the money. This medication is safe for kittens above the age of 8 weeks and weighing 1.5 pounds.
It is simple to administer and quickly kills fleas. While this is an excellent flea treatment, it fell short of our top rank because it only kills adult fleas and not their eggs or larvae.
Within 72 hours of administration, this spot-on treatment kills ticks and lice. Because it is waterproof, it is an excellent alternative for cats who have allergies and require a bath.
This pack contains three pipettes, which is enough for a three-month supply.
Pros
Excellent value for money
Simple to use
Lasts for 4-6 weeks
Cons
The Bayer Advantage II Flea Treatment was created exclusively for kittens weighing 2-5 pounds. This spot-on treatment has two active components that work together to kill all stages of flea life.
This set contains two pipettes, each of which provides protection for up to 30 days. After 24 hours, this treatment is waterproof, so your kitty can have a bath without fearing that the therapy will stop functioning.
Before using, carefully weigh your kitten, as this is only intended for usage in kittens weighing more than 2 pounds.
Pros
Veterinarian advised
On touch, kills all phases of flea life.
It has two active components.
Cons
Some alternative flea treatments are more effective.
Not suited for kittens weighing less than 2 pounds.
The Sentry PurrScriptions Plus Flea & Tick Squeeze-On Treatment protects against fleas, flea eggs, flea larvae, deer ticks, and mosquitoes in five ways.
If you reside in a West Nile Virus-infected area, this is a fantastic alternative because it kills West Nile-carrying mosquitos. Unlike most treatments, this spot-on should not be used on kittens under the age of three months.
While this kitten flea treatment is effective, you'll have to wait a bit longer to administer it on your tiny furry friend.
Pros
Formula that dries quickly
For a period of one month
Cons
Only suited for kittens weighing more than 5 pounds.
Not suitable for kittens under the age of 12 weeks.
Catego Flea and Tick medication can be used on kittens weighing more than 1.5 pounds and at least 8 weeks old. The topical, spot-on solution works rapidly and kills fleas in just 6 hours.
It also works against flea eggs, larvae, ticks, and lice. The innovative applicator is meant to penetrate beneath your cat's coat, allowing you to apply this therapy straight to your cat's skin.
This is good value for money, and you can also purchase this flea medicine for kittens in a pack of one single treatment to save money.
This spot-on solution is quick-drying and non-greasy, however there is no information from the maker on whether it is waterproof after drying.
Pros
Select one, three, or six treatments per box.
Suitable for kittens weighing more over 1.5 pounds.
Cons
Some therapies are not as long-lasting as others.
Some cats may experience irritation at the point of application.
If your cat's skin is sensitive and reacts to spot-on topical flea treatments, these Capstar Flea Tablets could be the solution.
Of course, some cats can be difficult to medicate! These tablets begin acting in 30 minutes and have been shown to be 90% effective at removing adult fleas within hours.
They're designed for kittens weighing 2 pounds and up, so weigh your kitten beforehand to ensure they're over that level.
If your cat has a severe infestation, these flea treatments for kittens pills can be administered once daily; however, because they only kill adult fleas, you may need to treat your cat several times until all of the fleas have reached the adult stage of their life cycle.
Pros
An efficient alternative to spot treatments
Within 30 minutes, work begins.
Cons
Expensive
Only works on adult fleas.
Some cats dislike pills.
Activyl Flea Treatment is a monthly spot-on treatment for kittens weighing more than 2.9 pounds starting at 8 weeks of age.
You have the option of purchasing a pack of three or six treatments. This spot-on medication is believed to kill 90% of fleas within the first 12 hours of application.
As far as we can tell, this is only effective against adult fleas. This means you'll have to keep treating until any remaining eggs and larvae develop into adult fleas. This also leaves an oily residue that can take a long time to dissolve.
Pros
Water repellent
Excellent value for money
Cons
This product leaves an oily residue.
It takes some time to get things going.
Only effective on mature fleas.
Some treatments are not as effective as others.
Finding the Best Flea Treatment for Kittens: A Buyer's Guide
In terms of effectiveness, flea treatments have come a long way, but how do you determine which one is best for your kitten? We go over frequently asked concerns to assist you in finding the best solution for your new cat.
Fleas can cause a variety of issues for cats, including allergic dermatitis and bacterial infections, but they are most harmful to kittens.
Kittens are susceptible to anemia due to their small stature. As a result, if they lose too much blood from flea bites, their little bodies can't cope as effectively as adult cats.
Kittens also lack a fully developed immune system, making them more vulnerable to bacterial illnesses.
Before deciding on a flea treatment, we recommend consulting with your veterinarian to ensure that it is appropriate for your kitten.
The following are the most important factors to consider while selecting a flea treatment:
Method of application
Topical spot-on solutions, pills, and powders are the most often used flea treatments. Topical spot-on remedies are unquestionably the most effective, but they can be unintentionally eaten and some leave an oily residue.
Tablets are also an alternative if your cat has sensitive skin, but they must be administered more frequently. Powders are a decent short-term choice, but they must be reapplied frequently.
The frequency of application
Find out how long your selected therapy will last, and then make a note to re-apply when this coverage expires.
Many spot-on treatments are effective for about 30 days, but some aren't waterproof, so you'll need to re-apply if your cat comes into contact with water.
The frequency with which you can administer tablets varies, so read the label for each product.
The flea life cycle is being targeted in this section
Some flea treatments only work on adult fleas, which means that if the eggs and larvae hatch, your cat will still have fleas on their body and you will need to re-apply the medication.
Other flea treatments target all phases of the flea's life cycle and are more effective at dealing with an infestation quickly.
Using an adult cat flea treatment on a kitten can result in a harmful accumulation of the substance
Always use a flea treatment developed for kittens, and make sure your kitten's age and weight match the information on the container.
Some flea treatments are safe for kittens as young as 8 weeks old, when they are still with their mother cats. Others are only acceptable for kittens above the age of 12 weeks.
Excessive salivation, diarrhea, vomiting, muscle spasms, twitching, incoordination, and sadness are all symptoms of a flea medication overdose.
If your kitten exhibits any of these symptoms following flea treatment, contact your veterinarian right once.
Conclusion
The Frontline Plus Cat & Kitten Flea and Tick Treatment is the best overall flea treatment for kittens. This long-lasting and powerful flea treatment is suitable for kittens over the age of 8 weeks and is extremely simple to apply.
The PetArmor Flea & Tick Squeeze-On Treatment is unbeatable in terms of value. This can last up to 6 weeks, but keep in mind that it only works on adult fleas, not their eggs or larvae.
Whatever flea treatment you choose for your cat, getting into a regular treatment cycle ensures that your kitten, as well as you and your family, are not troubled by those annoying biting insects!
This gives everyone more time to enjoy those wonderful cat cuddles.
BestForPets (bestforpets.org) hopes that our reviews of the best flea treatments for kittens have assisted you in narrowing down your options and locating the ideal product for your needs!
0 out of 5 stars (based on 0 reviews)
There are no reviews yet. Be the first one to write one.