12 Best Cat Foods From Purina Beyond
Purina Beyond is a pet food line from the well-known company Purina. Purina has been producing pet food for nearly a century, so their brand is not new to the market.
Purina Beyond joined the ring of "real food" pet food products as more pet owners sought to carefully source their pet's nourishment.
They have various dishes under this moniker, including grain-free options, GMO-free options, and wet food inspired by real prey.
This cat food brand is ideal for parents who want to transition their cat from normal dry kibble to higher-quality food but don't want to commit to a subscription or spend a lot of money.
The best cat foods from Purina Beyond are easy to find and don't cost too much almost anywhere that sells pet food.
Purina Beyond components are generally of high quality and nutritionally balanced. Cat owners looking for the healthiest and best on the market should go elsewhere, since there are better solutions available.
This is not to say that Purina Beyond is harmful to your cat. There are numerous recipes available to meet your and your cat's demands. Let BestForPets (bestforpets.org) investigate more.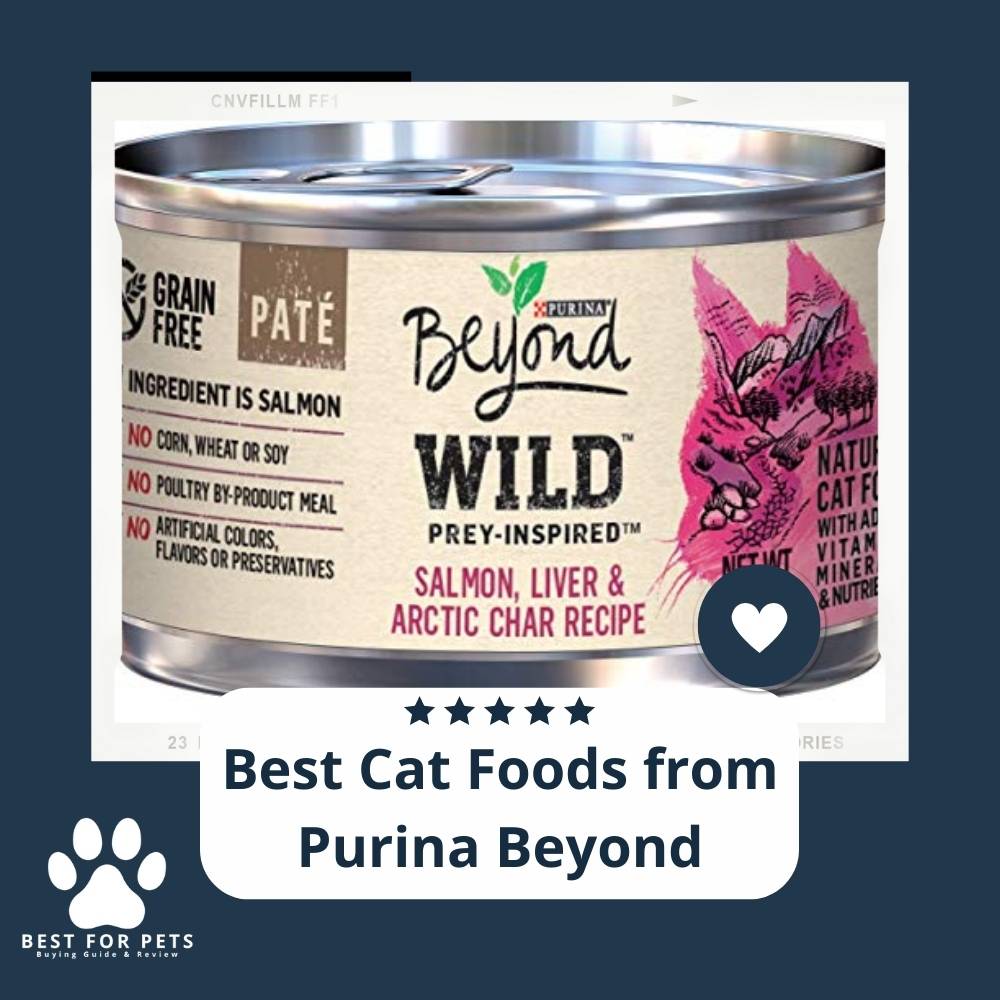 Purina Beyond Cat Food Evaluation
Purina Beyond is manufactured by whoever and where?
Nestle-Purina has been producing excellent Purina products for almost 90 years. Purina Beyond is also produced in response to widespread demand for more healthy and "genuine" food.
Purina Beyond is manufactured in numerous plants located in Colorado, Illinois, Georgia, and Pennsylvania.
Purina Beyond is best suited for which kind of cats?
Purina Beyond is suitable for all healthy cats. Because most of their products do not contain wheat, soy, or corn, they are ideal for cats that are allergic to these ingredients or have moderate gastrointestinal troubles or other sensitivities.
Primary Ingredients Discussion (Good and bad)
Purina goes "above" the usual standards for cat food by sourcing the majority of its ingredients in the United States and avoiding the use of wheat, corn, and soy in the majority of their products.
Their Beyond range of foods contains no artificial colors, flavors, or preservatives.
Real Protein Sources
In each Purina Beyond recipe, a recognized protein will be listed first, and sometimes as a second component. This signifies that the first ingredient is present in the majority of the recipe.
Cats require protein for energy throughout the day, and you can rest assured that they are eating real chicken or fish.
Meat from Organs
Some of the protein in the WILD recipe line comes from organ meat, which is high in iron and other vital elements.
Chicken Dinner
Chicken meal, a good source of protein, is found in various Purina Beyond dry cat meals. It's on purpose that the name is a little cryptic. Chicken meal is made from ground-up chicken pieces that would otherwise be wasted.
The only issue with chicken meal is that it is handled with far less care than edible chicken meat, making it prone to contamination.
While no precise information is available for the cat food recipes, Purina claims that the chicken meal in their dog food is steroid-free and does not contain feathers, heads, feet, or intestinal contents.
Pea Flour
Some of the Purina Beyond brand's dry food products contain pea starch. It's a filler, and fillers usually signify something with little nutritional value.
When pet food makers exclude grain from their formulas, they typically replace it with peas. Peas are preferable than grains, but others claim that too many might be stressful for your cat's digestive tract.
Flour from Cassava Root
Purina Beyond adds cassava root flour to several of their products as another attempt to fill in the gaps with grain-free meals.
When cassava root flour is processed correctly, it is safe for cats to consume. It is toxic to cats when it is uncooked. In the end, it is a filler with no nutritional benefit for cats.
Xanthan Gum
Guar gum is a thickening ingredient, emulsifier, and stabilizer used in various Purina Beyond foods. It is genuine food derived from the guar bean.
It is a substitute for carrageen, however it is regarded safer for human consumption. In fact, it decreases LDL cholesterol, triglycerides, and enhances glucose tolerance in people. So, what's the harm in feeding it to cats?
It may not be a problem for healthy cats. However, it may exacerbate these issues in otherwise GI-compromised cats.
This is because legumes are tough for the digestive system to process, and guar gum is derived from a legume. In this case, the benefits to cats usually do not outweigh the costs.
Sourcing of Ingredients
Purina stresses integrity by tracing their ingredients transparently.
The majority of the components come from North America, but they have also opted to source some from France, New Zealand, Chile, Japan, China, and other places.
On their website, you can view an interactive map that shows where the ingredients come from.
Beyond Subcategories
Purina Beyond recipes are divided into four sections according on the species of cat.
Beyond Grain-Free Purina
Grain-free cat food is ideal for cats with digestive difficulties. This recipe collection contains no wheat, maize, or soy.
Beyond Indoor Purina
Recipes marked "Indoor" have 10% less fat. They also feature extra antioxidants and fiber to help with immune wellness. The Indoor brand of cat food comes in two varieties: dry and wet.
Beyond Simple Origins of Purina
A recipe labeled "Simple Origins" has been Non-GMO Project confirmed as non-GMO.
Beyond WILD Purina
WILD dishes are inspired by what cats could consume in the wild. There are dry and wet variants, both of which are grain-free and high in protein.
Pricing and Availability
When you consider the daily feeding costs, Purina Beyond is a moderately priced dry cat chow. Purina Beyond dry food will cost you roughly 30-40 cents each day to feed your cat.
Wet cat food, which contains slightly higher-quality ingredients (such as organ meat in some situations), will cost you up to $3 per day to feed your cat.
Beyond goods are widely accessible on Chewy, Amazon, and at the majority of big shops.
Purina Beyond Cat Food: A Quick Look
Pros
Grain-free alternatives
Dry goods are reasonably priced.
Protein-rich diet
Formulas for indoor cats
Ingredient sourcing transparency
Cons
Some recipes contain suspect components.
Some recipes contain a lot of plants and carbohydrates.
History of Recalls
Other Purina goods have been recalled, but not Purina Beyond recipes.
Reviews
One of Purina Beyond's most popular recipes is the Grain-Free Ocean Whitefish & Egg. It is available on Chewy in 3, 5, and 11-pound bag sizes.
A cup of food every day will suffice to feed your cat. Ocean whitefish, chicken meal, and pea protein are the first three ingredients.
In addition to the protein sources, this recipe contains a significant amount of plant ingredients, such as yeast, canola flour, and dried sweet potatoes.
These additives significantly increase the carbohydrate content. This could be dangerous to cats who are predisposed to fat and diabetes.
Cats that are allergic to chicken, fish, or eggs should avoid this recipe. However, if your cat need a grain-free meal that is reasonably priced, this could be ideal.
Pros
A good source of protein
Contains three protein sources
There are three bag sizes available.
Cons
Cassava root flour and pea starch are used as fillers.
Carb-heavy
This grain-free dry food dish is similar to the ocean whitefish recipe, but it has more chicken and no fish components.
Chicken (fresh chicken meat), chicken meal (dried chicken byproducts), and pea protein are the first ingredients. As the fourth component on the list, "dried egg product" finally appears.
Because chicken is considered a low-allergy food, many cats that would otherwise react to a fish product will be able to appreciate this product.
This recipe appeals to us more because of its lower carbohydrate content for dry cat food.
Pea protein, starch, and cassava root powder are present, as in the ocean whitefish dish, which isn't necessarily bad for all cats but may contribute to pre-existing GI disorders.
Also, cat parents who eschew plant items may be disappointed with this recipe, as it contains a lot of them.
Pros
The first component is genuine chicken.
Cats enjoy the flavor.
Grain-free
Additive-free
Probiotics have been introduced.
Cons
Includes superfluous fillers such as cassava root flour and pea starch.
Plant extracts
This recipe is all about low-carb and may be the healthiest of the three. Inspired by wild prey Salmon contains high-quality ingredients and nutrients.
Salmon, chicken liver, liver, salmon broth, arctic char, and chicken heart are the first six ingredients. Every time your cat consumes this food, she is getting a nutrient-dense meal.
While the high-protein and low-carb components of this recipe shine, the usage of guar gum is a drawback.
As we previously knew, guar gum may be hazardous to cats with digestive disorders but is absolutely safe for healthy cats.
It may also be expensive to feed your cat this food as their primary diet, as a daily serving will cost roughly $3.
The only plant ingredients in this recipe are guar gum and carrot, making it an excellent low-plant derived cuisine if that is your option.
Pros
High protein content
Low carbohydrate
Ingredients of high quality
Reduced plant content
Cons
Guar gum has been added.
Expensive
The predominant protein source in this wet cat food appears to be turkey.
Beyond's grain-free canned food is made mostly of turkey and other poultry products, with a few vegetables, thickeners, and synthetic nutrients thrown in for good measure.
Let's take a closer look at the list of ingredients.The first ingredient is poultry broth, which accounts for 82% of the food's water content.
The second ingredient is, as the name suggests, turkey flesh. As a second source of animal protein, it is combined with chicken. The fourth ingredient is liver.
Because this liver can come from any animal, its presence renders the diet unsuitable for cats that are allergic to animal proteins.
Following a series of plant ingredients, the diet incorporates dried egg product as a highly accessible source of protein and other nutrients. Sweet potato, spinach, and potato starch are examples of high-carbohydrate foods.
"Natural flavor," which is often made from hydrolyzed animal tissues, adds flavor to the dish. Guar gum functions as a thickening.
Finally, the recipe has a lengthy list of vitamins, minerals, and amino acids that are required to make the food nutritionally complete.
Overall, this is a meat-based wet diet with a high carbohydrate content and a high protein level. Each 3-oz can contains 75 calories, or 25 calories per ounce.
Pros
Primarily composed of animal protein
Made primarily of recognized meats rather than animal byproducts
Contains no carrageenan.
Moisture-rich to aid with hydration
Artificial colors, flavors, and preservatives are not used.
Cons
Carbohydrate content is high.
Food Type: Dry
Salmon, chicken meal, dry egg product, pea protein, and whole barley are the first five ingredients.
33% protein, 15% fat, 4% fiber, and 12% moisture are guaranteed.
Calories in a Cup: 428 calories in a cup
Price per pound/ounce: $2.65
Purina Beyond believes that nutrition should be simple and straightforward. The greatest cat food has actual, recognized, and natural ingredients, as well as important nutrients.
This Purina Beyond Simply Salmon & Whole Brown Rice Dry Cat Food provides exactly that.
It contains genuine salmon as the first component, as well as other high-quality protein sources such as chicken meal and eggs.
This dish contains pea protein as a primary component, which makes us wonder how much of the protein is derived from animal sources, although this may not be a concern.
This dish also featured healthful sources of digestible whole grains including barley, oatmeal, and brown rice, as well as cranberries for urinary system health and dried tomatoes and spinach for fiber.
What Other Users Have to Say
Purina Beyond appears to be one of the best products in the Purina family, according to AllAboutCats, "because to the high quality of its ingredients and the absence of possibly dangerous additives."
"Purina Beyond Grain Free Cat Food is worth trying because of its high-quality ingredients, fair pricing, and the fact that cats appear to appreciate it," writes The Spruce Pets.
Amazon – As cat owners, we always double-check Amazon buyer reviews before purchasing anything. These can be found by clicking here.
FAQs
What Is the Price of Beyond Cat Food?
Purina Beyond cat food is an affordable brand. In terms of daily feeding expenditures, Beyond dry food will cost $0.34 to $0.42 a day for a 10-pound cat.
Beyond WILD wet recipes cost approximately $3.63 per day, whereas Beyond's Grain-Free wet food range costs approximately $3.09 per day.
Is Beyond A Good Option Overall?
Purina Beyond appears to be one of the greatest brands in the Purina family due to the high quality of its ingredients and the absence of possibly dangerous additives.
While the majority of their dry feeds and some of their wet recipes are rich in carbohydrate content and plant inclusions, Purina Beyond WILD canned foods stand out because of their minimal plant content and usage of select organ meats.
Where Can I Buy Beyond Cat Food?
Beyond is sold in big box stores, grocery stores, and some pet stores. Purina Beyond cat food is available online through Target, PetSmart, Chewy, Amazon, and Walmart.
Conclusion
Purina Beyond makes fresh, high-quality cat food affordable and widely available.
It is not the greatest cat chow available because it contains additives and fillers that some cat owners find suspicious.
Purina Beyond does an excellent job of maintaining integrity by sourcing the majority of ingredients locally and providing enough of what's necessary in their recipes.
If you decide to choose Purina Beyond as your next cat food, BestForPets (bestforpets.org) hopes we have adequately informed you of its benefits and drawbacks with this best cat foods from Purina Beyond list.
Good luck!
0 out of 5 stars (based on 0 reviews)
There are no reviews yet. Be the first one to write one.